Perfect your profile
A picture might say a thousand words, but your social media profiles speak volumes about your business. Your Twitter, Facebook, Instagram – they are all representing your brand and are likely to be the first impression a potential customer will have of you. So how do you make that first glance memorable for the right reasons?
First things first, take a look at your bio. On all of the social media platforms, you can include a description of your business on your profile bio. Make this count! Usually, you have a limited amount of space, so this is your chance to summarise your business, what you do and what you want to be known for. For example, you can see our Twitter bio below. Don't forget to include a link to your website!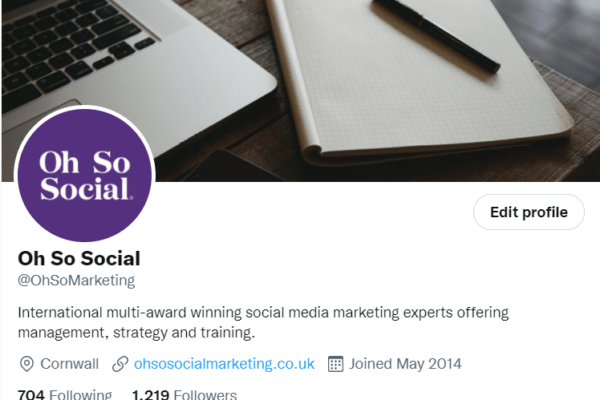 It's also important that your profile image is instantly recognisable. For business pages you should be using your logo, or in some cases your headshot if you're an entrepreneur and the face of your business. Using your logo keeps your social media profiles on brand, and ensures your posts are identifiable within a busy social feed.
What's in a name? Everything, if you want customers to find your business on social. As with your profile image, it's so important that your social handles are aligned to your business. Use your business name, or a shortened version, wherever possible – so users know who you are and can easily find your profiles when searching. For example, on Twitter we're @OhSoMarketing and Instagram you'll find us on @OhSoSocialMarketing.
But it's not just the obvious elements above that you need to be thinking about. Your brand reputation can be affected by something as simple as who you follow (or who follows you!) Take a glance through your follower lists and remember, it's better to have quality followers than hundreds of spam accounts and users that will have a negative impact on your business.
Whether you're setting up your first social profiles for a new business, or want to make sure your business is shining on social, these tips can help you make the right first impression. If you need help setting up your Twitter, Facebook or Instagram accounts for business, then head over to our sister site Oh So Savvy for our free Introduction training courses.
Naomi