Our Motivational Month
Here at Oh So Social, we often get asked about the best type of post for businesses to share on social media.
In the ever-changing world of social media marketing, there's not one magic way of achieving maximum engagement, and a lot of what will work for you depends on your customers and followers! However, we recommend to follow the 'Rule of Thirds:' an equal mix of sales posts, shareable content and brand awareness. Ultimately, we want our business social media content to be engaging to our customers and followers. Always remember to put the social back into social media, rather than using the platform for a constant sales pitch.
With this in mind, we decided to try out a little experiment on our sister company Oh So Savvy's Instagram account. What would happen if we spent a month only sharing motivational quotes?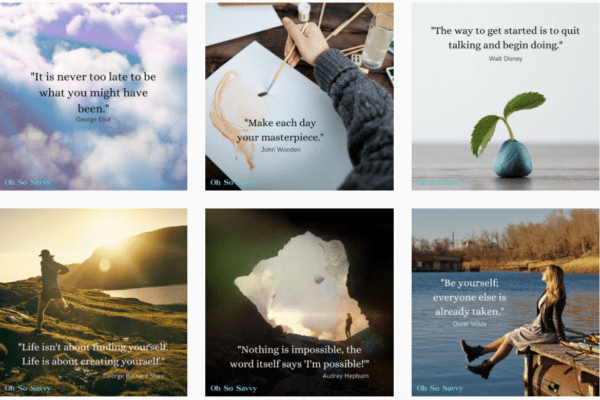 We have all seen them on Instagram. Motivational and inspirational quote posts, designed to make us aim high, lift us up when things get tough, and spur us on to achieve our goals. Love them or hate them, motivational quotes are everywhere on social media.
They are a great example of shareable content. Choose them wisely, and they can resonate with your followers, and reflect your brand message. Tread carefully though, to avoid crossing the line over to tacky and negatively impacting your brand.
Over on Oh So Savvy's Instagram, we spent a month sharing daily motivational e-cards. These can be easily designed yourself – we love using Canva to create professional social media graphics. We utilised popular daily hashtags, such as #MondayMotivation, #TuesdayTip, #WednesdayWisdom, and #ThursdayThoughts, post related tags such as #QuoteOfTheDay, plus our usual brand hashtags, to increase the reach of our posts.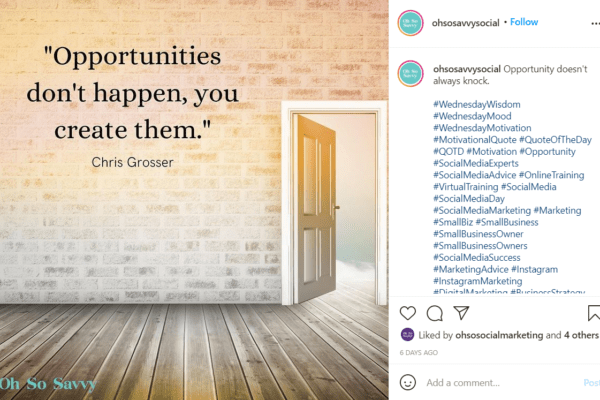 So what did we discover after our motivational month? (Other than a desire to aim for the stars!)
Looking at our insights for the month, Oh So Savvy saw engagement increase by 85% compared to the previous month. This mainly came in the form of post likes rather than comments, so these posts haven't started many conversations with our audience. Oh So Savvy gained 18 new followers during our motivational month, but in the previous month collected 48 new followers. Although counting followers is a vanity metric that will not necessarily reflect the success of your social media marketing, we can assume that our month of quotes didn't showcase our brand well enough to encourage people to want to know more about us. Overall, our impressions had increased by 38%, meaning our posts have been seen more on Instagram. But are they being seen by the right users?
This experiment shows that variety is key when it comes to planning your social content. Relying on one type of post, whether it's all calls to action or all non-brand content, can cause your followers to switch off, or attracts vanity engagement that doesn't lead to an increase in brand awareness, and ultimately, sales.
Struggling with managing your social media accounts? Whether you are stuck for ideas or just can't find the time, our Social Media Management services will take the stress out of marketing your business on social media. Just get in touch to see how we can help.
Naomi