30 Under 30
We are delighted to announce that our very own, Chief Cat Herder, Katherine George has been named on Cornwall's 30 Under 30 list.
This is the first time Cornwall's Chamber of Commerce have ever done this list and Katherine was honoured to be named.
Taking the time to thank everyone who has supported her over the year and congratulating the rest of Cornwall's finest named, she tweeted: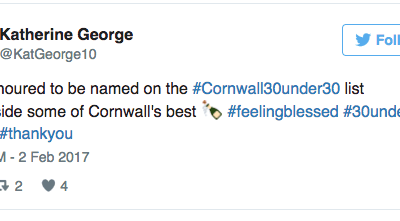 See the full list here.